Germany's diesel uncertainty leaves 300,000 cars unsold
Dealerships in Germany are unable to sell 300,000 used cars equipped with Euro 5 diesel engines because of fears that high NOx emissions may lead to older diesels being banned from cities such as Stuttgart and Munich.
"These vehicles can only be sold with great difficulty at the moment because customers are uncertain," said Thomas Peckruhn, head of the ZDK association of German dealerships in a statement on Thursday.
ZDK said it surveyed of 718 franchise retailers across all brands on Aug. 22. It said the survey was the first it has directly conducted among dealers, and as such there were no comparison figures.
Three-quarters of dealers responding to the survey said they have had to write down the value of some of their inventory. Nearly 85 percent claimed automakers were not providing enough assistance to help reduce the stock. As a result of slow sales, 77 percent of dealers said they had cut prices, the dealer association said.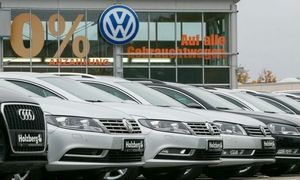 News from:http://europe.autonews.com