SCANIA-POWERED
VIKING 46 BILLFISH IS
IN PRODUCTION
Twin 900 HP DI13-Liter Scania Engines Will Make Their Debut in North American Pleasure Craft
Market Powering a New Viking 46-foot Billfish
San Antonio, Texas – Scania, one of the world's leading manufacturers of engines for boats, trucks, buses and industrial applications,announced today a new build, 46-foot Viking Billfish sportfish yacht (46BF) will include two recently introduced, recreationally rated Scania 900 HP DI13-liter in-line six-cylinder engines, offering anglers incredible acceleration with an industry-leading power-to-weight ratio. The beautiful, new 46-foot Billfish, one of three Billfish models from Viking, was commissioned by Mack Boring to be used as a platform to demonstrate the reliability and performance of Scania's new engines to the recreational market. This vessel will travel the East Coast waterways and be utilized for fishing tournaments and events.
Viking is the premier manufacturer of the highest-quality sportfishing and motor yachts ranging from 38- to 93-feet. The 46BF is ideally equipped for inshore and offshore tournaments, is easy to maintain and offers all of the amenities of a comfortable and versatile cruising boat. The perfect platform for Scania's new engines, it is built for maximum efficiency and optimized for strength and stiffness while minimizing weight.
Built on a Compacted Graphite Iron (CGI) engine block and employing a simple wastegate turbocharger, the twin Scania DI13-liter engines deliver top-of-class performance without the need for additional turbos or superchargers. The resulting lighter weight, combined with Scania's proprietary Engine Management System (EMS) and common rail extra high-pressure injection system (XPI), optimizes fuel delivery enabling impressive torque, lower noise and exceptional fuel efficiency.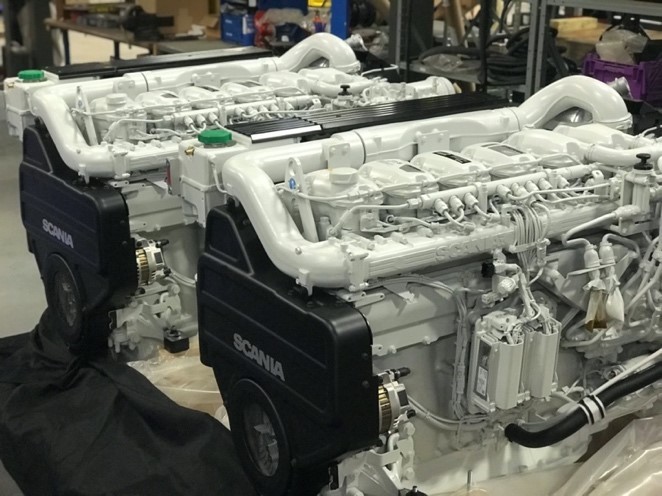 Scania 900 HP DI13-
Liter Scania Engines for
Viking 46 Billfish






News from:https://www.scania.com/